3 of 3
At this point you are probably asking yourself, "Didn't Dinka recently enter the third trimester?" Yes she did, and thank you for asking. We didn't make too much of a fuss about it because the only thing that marked this occasion was the fact that we became approximately the same weight, a fact that says something that neither of us wants to admit about his or her own body.

While we should probably be taking advantage of the short time that we are in the same weight class by boxing or wrestling, instead we are relaxing and enjoying the increasingly strong kicks of the little one. According to the weekly pregnancy newsletter I receive, I should be talking to the baby at this point so she will know my voice and be comforted by it. I am not uncomfortable with this but deciding on a subject is a difficult matter. A dramatic reading of The Iliad seems over the top and the jibberish that I resort to is probably not sufficiently stimulating, even at this early stage of development. I should probably prepare a syllabus of subjects to work through by July, as Kevin did for Raimi (albeit after he was born), but I just don't know where to start. If she is born with a penchant for technology and/or an interest in the production of scotch, I am not to be blamed.
April 25, 2003
Bobby Digital
It's on the way. In five to nine days, the Souzeks will join the rest of the world in the arena of digital photography on the back of this wonderful machine: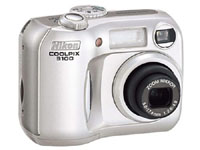 While people are generally polite about asking for more pictures of Digby, we anticipate that the demand for baby pictures will be severely higher. If they are not produced in a timely fashion, of an acceptable quality and at an adequate rate, feelings could be hurt and relationships strained. Enter the
Nikon 3100
. I agonized over the decision of which camera to buy for quite some time so if this is a truly horrible camera, perhaps it is best not to tell me (if you must, please do so in time for me to return it). Our hope is that this purchase will enable us to bountifully produce images of devastating beauty that will capture the very essence of life in all its tragedy and comedy. In the very least, you should see enough blurry dog shots and cute baby pictures to make you sick.
April 25, 2003
Tasting notes
My reading for the evening? The back of a bottle of Glenfiddich Special Reserve, aged twelve years, that arrived in an Easter care package from Dinka's parents:
"Glenfiddich® Special Reserve is a 12 year old Single Malt Scotch Whisky, from the Speyside region of the Scottish Highlands. It has a soft, rounded taste, with rich fruit flavours, a touch of pine and subtle peatiness.

On Christmas Day 1887, the first spirit flowed from the stills at The Glenfiddich Distillery. Since then, the quality of Glenfiddich Single Malt Scotch Whisky has been sustained by never compromising the traditional standards of production - it is the only Highland Single Malt to be distilled, matured and bottled at its own distillery using a single source of clear, natural spring water for extra purity."
Tonight I raise a glass to the best mother- and father-in-law that a young man could for. If only I could be there to show my gratitude in person.
April 23, 2003
Reload
Like every self-respecting geek out there, I am unashamedly wetting myself in anticipation of the Matrix sequel, Matrix: Reloaded, due out May 15th. If you liked the first one at all (and how could you not?) and weren't excited about the sequel(s), one viewing of the final theatrical trailer, released last week, should do the trick. I recommend the "large (640 x 346)" version, as that produced the best combination of size and quality for me. If you'd like to read a bit more, try this Wired article, including an interview with special-effects supervisor John Gaeta.

I'll see you May 15th, either at the theatre or back here for discussion.

April 20, 2003
A Year
Tonight marks the one-year anniversary of my entry into the Catholic church. It was last year, during the same Easter Vigil that we attended tonight, that I was confirmed and accepted into the church. I have not spoken much of my faith here and I may not often again, but I think that to never mention it at all would mean not being honest with myself.

I realize that this makes many people uneasy: friends, family, fellow webloggers, etc. However, the fact that you know that I am Catholic does not mean that you know as much about me as you might think. I am no less of any of the other things that I have been to you and will continue to be. All I ask is that you do not categorically rule me out according to your experience before taking the time to find out a bit more, and I will do the same for you. Just talk to me, ask or do whatever you have to do. Don't worry, I won't try to evangelize you.

To exercise all due humility, I can't honestly say that I am definitely in a better place in this respect than I was last year. But I believe I am on the right path.
April 20, 2003
Better Machines = ?
Over the past weeks I had begun to pay some attention to the conversation on user experience in web design. Not a lot of attention, just a bit. Then on Monday I experienced a wonderful intersection of ideas: first, I read Kottke's post on The Elements of User Experience, by Jesse James Garrett, which got me thinking on that topic again; second, I happened to read a small chapter in The Need For Roots by Simone Weil on the importance of reform in technical research and machinery, a change of potentially "greater social importance than all the measures arrayed under the title of Socialism."

Like Marx before her, Weil is searching for a way to lessen the extent of uprootedness (or alienation, to Marx) among the working class and emphasizes one of his arguments as the key:
"...If there is one conviction which stands out with irresistible force in the works of Marx, it is this one: that any change in the relationship between the classes must remain a pure illusion, if it be not accompanied by a transformation in technical processes, expressing itself in entirely new types of machinery."
She goes on to lay out a plan for this to be accomplished. The focus of technical research needs to be distanced somewhat from the immediate goal of the capitalist (profit). The needs and experience of the worker should be taken into consideration in the research and development of the machine. When this is done, more intelligent tools will be created, enabling the worker instead of degrading him. Ultimately, a working class of qualified professionals would hopefully change the way that capitalism operates in some fundamental way without causing its destruction. I know, that last step is a doozy.
As these ideas spun around in my head, I began to wonder if perhaps progress was being made through this new medium and mode of development. It would seem that the study of user experience (if not focused entirely on increasing profit) as a factor in the design of websites and web applications is an unprecedented step in the right direction. Surely people have worked for some time to improve machines to make their users more efficient but the way in which it is now being studied and implemented seems unique, as if it were transcending mere ease of use. At the very least, I think that if this is an indication of the direction of research and "machine" development, we're on the right track. It would be nice to think that our advances in technology could actually reduce alienation and class separation. It is among the loftiest of ideas, but perhaps one worth considering.
Side note: I have added a section to the sidebar with links to what I'm currently reading. I thought this would be of interest for a few reasons: a) so you won't feel blindsided by an entry like this, b) to facilitate conversation on related topics, and c) to publicly display what is floating around my head. Currently it's a lot of baby information mixed with a bit of the above.
April 17, 2003
Dream a Little Dream
After reading this detailed article on what factors determine the cost of a bottle of wine, I had to make some minor modifications to a dream of mine. You see, in explaining why wine costs what it does, the author talks briefly about the rising price of vineyard land in California's renowned Napa Valley:
"And if you want to buy your own land, get in line. Vineyard prices have soared over the years. In the 1980's, Far Niente, a respected winery in Napa, bought a property for $18,000 an acre. A vineyard it bought five years ago cost $100,000 an acre, which is now the average. A vineyard with a top pedigree could run to $300,000 an acre."
This simply will not do. I have had secret plans for some time now to drop all this programming nonsense (after a scant six months of professional experience) to own a vineyard, working meticulously and methodically to produce the finest wine in the land. With such a high price per acre and my current salary being what it is, this is not within the realm of possibility.
So after putting some serious thought into my imaginary future, I have come up with a plan. Since I obviously won't have the money to purchase an extravagant vineyard, I have to use the resources and connections that are available to me. My father-in-law has for some time known the family
Markowitsch
, producers of some of the finest
riesling
in all of Austria. He knows Johann, the father, quite well but now the business has been passed on to the next generation, in the form of his son Lukas. I was fortunate enough to visit the Markowitsch vineyard in June and it was quite impressive. Lukas took time to show us every stage of production and even struggled to explain the process to me in English, as difficult as it was. I would like to think that although our meeting was brief, we laid the groundwork for a good future relationship. He gave me his email address and ever since I've been planning.
So here's where the aforementioned plan comes in. Using this family connection, I start a conversation with Lukas on the growing demands on a business owner in an increasingly technological world. He talks about the website and production databases, we finish a bottle of riesling, I namedrop Baudrillard and Barrett although I've read nothing by either of them. Eventually we both come to the conclusion that the benefits of our professional cooperation are too appealing to pass up. The Souzeks pack up and move to a rustic farmhouse with an ambitious yard near Carnuntum, yet within striking distance of Vienna. For a few months, I work closely with Lukas, hawkishly observing every step of production like an efficiency expert, although I know nothing about making wine. From the knowledge acquired during this initial stage, I develop a website and several custom applications to analyze production data, increase efficiency and improve marketability, all the while maintaining a healthy respect for the kind of time-honored, low-tech, natural processes that have always produced the highest quality of wine. It will be a scalable and robust solution, yet I will wear wool pants, vest and cap every day (do your homework: Michael Corleone goes back to Italy,
The Godfather
). As time passes, my knowledge of the process grows and eventually I am involved in most decisions concerning wine production (as it turns out, my instincts are very good). Within five years, several award-winning vintages will be produced. Eventually a snobbish critic in New York will come across a bottle of our riesling that will change his life. He will sing its praises, calling it the greatest riesling ever produced (as a side note, the critic will reconsider the direction of his life, leading him to reconcile with his estranged wife and disillusioned young son). Sales will soar and distribution will reach every corner of the world, yet we will remain humble, enjoying a simple life in the rolling hills of Lower Austria, the kind in which children can frolick and dogs can romp.
That's pretty much all I've got for now. I think there's a chance that a good percentage of the above could actually occur, if perhaps with a bit less exaggeration. After all,
riesling is in now
, haven't you heard? Are you listening out there, Lukas?
[wine links via
the morning news
]
April 13, 2003
|
Comments (1)
A Week's Pickings
Here's a short list of accumulated links that I've been meaning to point you all toward:
April 08, 2003
Potty Mouth
Every so often you come across a piece of work, often times a criticism, and upon reading it, all you can do is exclaim "Exactly!" and wish that you had had the presence of mind and illustrative ability to deliver the argument so eloquently. For me, there is no better example than this deconstruction of the shortcomings of the German/Austrian toilet. I'm glad that I'm not the only one that has been dumbfounded by this illogical design that seems to maximize the unpleasantry of its use. The article contains some unsavory descriptions but no more than are necessary to effectively make a point. I recommend it for readers of all nations, that we may work together toward a better toilet and a better tomorrow [via anil dash].
April 08, 2003
You Feel That Kickin?
Last night, for the first time, I felt the baby kicking away inside of Dinka's growing belly, a couple of indistinct but unmistakable thuds. Although the kicks were few and far between, it was very exciting, I assure you. I think it must be so cool to have a little person in there that you carry around everywhere you go. Everyone else just sees a pregnant belly but you have a little companion with you all the time, alternately sleeping and kicking but always growing. That's a very cool secret to be in on. It reminds me of the scene in Of Mice And Men in which John Malkovich's Lennie is trying to hide a couple of puppies in the bib of his overalls and they are squirming around, tickling him to laughter. At least that's how I imagine it.
April 03, 2003