Pass the Peas (Like They Used to Say)
Since my free time is now almost entirely consumed by the taking and posting of baby pictures, this is closer to a stack dump (ps as? nevermind) than a well organized list of data. Feel free to enjoy anyway:
August 22, 2003
|
Comments (3)
Fever Pitch
Factors contributing to the excitement around here (apart from the obvious):
Madden 2004 was released this week. This is the only video game franchise that I anticipate every year and it never fails to live up to my expectations. It is on my shelf, begging for a hundred hours of exploration and enjoyment.
I am in charge of preparing the main course for a feast on Saturday. I wanted to prepare lamb (who wouldn't?) but the time involved in preparing a whole leg is prohibitive for this situation. The answer was obvious, I should have seen it all along: souvlaki. The remaining questions are minor: tzatziki or no? Flambé with Metaxa? We shall see.
While my in-laws possess many more important qualities (love and acceptance of me being high on the list), they are also quite good at the giving of gifts. In the last two weeks: nearly a case of the Markowitsch riesling that I love so much, including a bottle of special reserve from Mrs. Markowitsch herself; a bottle of Isle of Jura 10 year old; a gift pack sampler of Glenfiddich containing 200 mL of their 12, 15 and 18 (!) year old whiskies; an unseemly amount of exquisite smoked meats and cheeses that cannot be found in most places this side of the Atlantic, not to mention northwest Indiana supermarkets. And this is just the food and drink. For anyone out there considering marrying into a family, look for one like this.
Veronika's baptism is on Saturday. Need I say more?
And yes, I put up
more pictures of her
.
August 15, 2003
|
Comments (3)
Lightning bug
I posted more pictures of Veronika today. If you're interested in seeing new pictures of her regularly (and with the picture-taking frenzy I've been in lately, there are bound to be regular updates), I would recommend checking her page often (a bookmark may be in order), as I may not always remember to remind you here.
August 08, 2003
I am so in love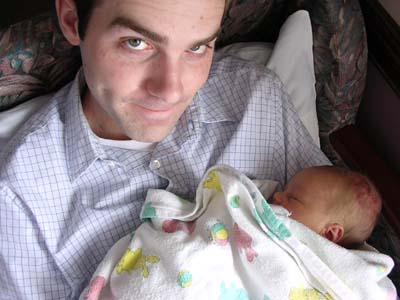 The nap pictured above lasted for about two hours and I wouldn't trade it for a week of doing anything else in the world. I can't begin to describe the way I feel about this baby (my daughter!) after only four days. She came out and I knew immediately that everything had just completely changed. This is a good thing.
You know that feeling you had as a kid waking up on December 26th, at first vaguely remembering that something great had happened (presents) and then being overwhelmed by joy when you remembered what it was? Well that's kind of like what the last couple of days have been like for me, except to some exponential factor of intensity because of the weight of the situation. My first thought in the morning is something akin to "Life is so great." Then I have to stop and ask myself why because I'm still a bit groggy. At this point, an image of that sweet little face appears in my mind and I turn to mush, which is the state I'll spend the rest of the day in.
Although I don't yet have the perspective that time will bring, right now I feel that I can say without hesitation or qualification that her arrival was the happiest moment of my life, the best thing that's ever happened, and every superlative you can think of. I am just bursting.
Now for some practical matters... Dinka has posted a
complete birth story
and as good as it is, there's no need for me to re-tell it, just go over there and read it. Also, I redid my
main page
, in case you're interested. And most importantly, I put up some
new pictures of Veronika on her page
, be sure not to miss those.
August 07, 2003
|
Comments (2)
She's here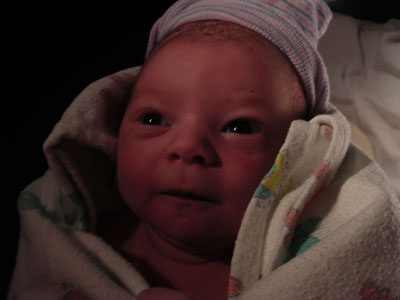 Vital statistics:
Name: Veronika Therese Souzek
Date of birth: August 03, 2003 at 2:47 a.m.
Height: 21.5 inches (54.61 cm)
Weight: 8 lbs 6 oz (3.81 kg)
Eyes: Dark blue (subject to change)
Hair: Light brown?
Want to see more pictures?
You can find them here.
I will post more pictures and labor/delivery details than you can handle in due time, but for now I'm heading back to the hospital to spend some time with my new hero (
Dinka
) and my baby girl.
August 03, 2003
|
Comments (4)