Autumn Leaves
Today was the first day that I felt that nip in the air that I've been anxiously awaiting for weeks. I was even able to see Digby's breath in the air as he panted after a furious sprint around the dog park in the evening. I'm with George, autumn is undoubtedly my favorite season of the year.

Everything just seems to come together to create the perfect atmosphere for just about anything you would want to do. The cooling air temperature, falling humidity and changing leaves make for perfect outdoor conditions. It's nice to throw on that extra long-sleeve shirt after the heat of the summer; it feels good to have to warm yourself again. The crisp clean air makes for perfect outdoor working weather, if wielding a chainsaw or ax is your thing. Grilled cuisine remains a viable option well into autumn as well, which is always important to one's general sense of happiness. Of course there is also an increasing amount of rain and darkness that requires you to be indoors, but this is a happy assignment when it means you can curl up to a movie with a loved one. While the endless daylight of summer simultaneously begs you to do something and mocks you for refusing to, autumn says, "Hey, you're working hard and enjoying the weather. It's raining/dark anyway, go ahead and relax inside with your family, there's no reason to feel bad." I like that kind of reassurance in a season.

In spite of what some naysayers might see as dreariness, I also find fall to be the most romantic time of the year. Let's face it, summer makes almost all human contact unbearable (or at least uncomfortable) and when the heat breaks, it's nice to be close to someone again. There's also the beautiful colors, the wearing of tweed and other itchy, warm clothing (as Paul Reiser would suggest) and hot apple cider from recently picked apples. Maybe it's also the knowledge that the year is drawing to a close, as George suggested, and the reflection and subsequent appreciation of the things around us. I think it rekindles in us a certain joie de vivre (you heard me).

And I didn't even mention baseball playoffs or fall's quintessential beverage (Samuel Adams OctoberFest, a seasonal beer available for a limited time--seriously, go get some before it's too late) or picking pumpkins.

Enjoy the season.
September 26, 2003
apt-get update
In case you're wondering where all the baby-related updates are, Dinka and I are posting some of them on the Parental Commentary section of Veronika's page. Lately I haven't been able to update either of them as much as I'd like. If you're wondering why that is, please find the reason below: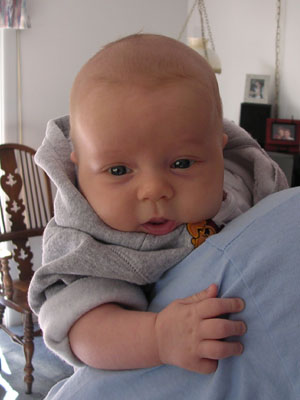 September 23, 2003
|
Comments (1)
The Whiff of the Bat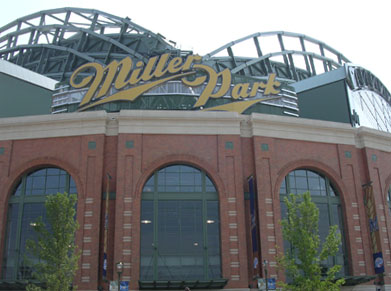 Today I made my first trip to
Miller Park
, new (to me) home of my beloved
Milwaukee Brewers
. As an annual member of the
Brewers/Pepsi Fan Club
(and thanks to a generous extended family), I was no stranger to Brewers games growing up, but this was the first time I had seen them play in Milwaukee since high school. They came into the weekend series against the Cubs on a tear, having won 14 of the last 16 games. However it took less than an inning for them to return to the near-minor-league form that I was accustomed to seeing as a child. They committed three errors in the first three innings (including a doozy that a high schooler would be ashamed of by
Brooks Kieschnick
), quickly went down 5-0 and stumbled the rest of the way to a 9-2 loss.
I took a few pictures at the game that you can see by clicking the image above. Sammy Sosa hit a home run that I should've taken a picture of, but I was indignant at being outnumbered and outcheered by obnoxious Cubs fans at our home stadium. Richie Sexson homered and I could've gotten a picture of Bernie the Brewer on his homerun slide, but I was too swept up in the excitement of the Brewers producing a run. Clearly I have something to learn about setting my emotions aside in order to capture these special moments on film.
It's not easy to be a Brewer fan but then again, it's not a choice.
September 08, 2003
|
Comments (1)
Checklist of Postponed Tasks and Grievous Oversights Resulting from Living with and Caring for a 1-month-old Baby
Wish dog a happy first birthday on his actual birthday (September 3rd) on website.
Announce dog's acceptance into prestigious canine country club.
Answer emails.
Post.
Take memorable pictures of daughter daily.
Mow lawn.
Perform normal household duties.
Engage in normal social interaction.
Exercise.
Ensure that wife knows what a wonderful job she's doing and how beautiful she is as a new mother.
The good news is that Veronika could not be cared for better. I'm working on the rest.
September 06, 2003
|
Comments (2)