Return of the Beard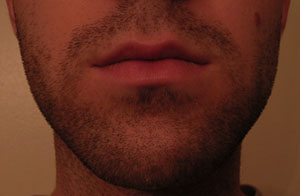 Maybe it's the chill of the first few days of real autumn weather or perhaps a desire to grow into the title of Papa Souzek, but in any case I have decided to grow out the beard for the winter months. The idea came to me last night, I mulled it over all night in my dreams and in the morning the decision was made. As hard as it is to believe, this winter will mark the fifth anniversary of my last beard, which played a more than minor role in meeting and marrying the girl of my dreams, so why not commemorate it with another?
The picture above is from the end of day four without shaving (tonight). More follicular updates to follow, you can be sure.
October 27, 2003
|
Comments (7)
voilà!
Make sure you go check out Dinka's new site design, officially rolled out about five minutes ago. Dinka did all the graphic design and layout work and made all content decisions, I merely put the ideas into XHTML and CSS.

This redesign marks the first step towards making souzek.com 100% standards compliant. With the exception of a few older posts (ampersands in URLs, img tags generated by Movable Type with the border attribute), Dinka's new page is valid XHTML 1.0 Strict, CSS, and RSS 2.0. And as if that wasn't enough, with a little help from this CSS float tutorial, I was able to code the entire site without a single table. These are dull facts to most but I am very proud of them.
October 27, 2003
Old Testament Spam
Like most people, I receive a number of unspeakably filthy emails per day from spammers (I long for you, Spam Assassin) but I just received one that caught my eye for an entirely different reason. I use a text email client so I don't see the images that normally occupy the whole message, I just see text. At the bottom of this spam was the following:
"them.b as for the appearance come from?' d answered the 'from going to and fro on the earth and from wal up and down on it.' the 'have you considered my servant job? there is no one like him on the earth a blameless and does it become holy? the priests answered 'no.' then haggai said 'if one who is unclean by contact with a dead body touches any"
Curious, I decided to see if I could find the source(s) of this strange, cryptic message. As it turns out, the first part is from the second chapter of Job, verses 2 - 3, in which the Lord challenges Satan to tempt Job, whose story we all know:
"The Lord said to Satan, 'Where have you come from?'

Satan answered the Lord, 'From going to and fro on the earth, and from walking up and down on it.'

The Lord said to Satan, 'Have you considered my servant Job? There is no one like him on the earth, a blameless and upright man who fears God and turns away from evil. He still persists in his integrity, although you incited me against him, to destroy him for no reason.'"
The second part is from the Old Testament as well, but from Haggai 2:11 - 14. Haggai is teaching a lesson about works through the metaphor of cleanliness:
"Thus says the Lord of hosts, 'Ask now the priests for a ruling: if a man carries holy meat in the fold of his garment, and touches bread with this fold, or cooked food, wine, oil, or any other food, will it become holy?'

And the priests answered and said, 'No.'

Then Haggai said, 'If one who is unclean from a corpse touches any of these, will the latter become unclean?'

And the priests answered and said, 'It will become unclean.'

Then Haggai answered and said, '"So is this people. And so is this nation before Me,"' declares the Lord, "and so is every work of their hands; and what they offer there is unclean."'"
If this is a common spam practice, it's new to me. I wonder where they are pulling this text from, assuming it's done by some automated process. Is this crusading spammer trying to teach us all something by sending out indecent emails with cryptic Biblical messages? Only Nydia Jacobs (num1sxy@active.co.nz) truly knows.
October 22, 2003
Out of Doors
Autumn is the time of year that makes Indiana tolerable. The leaves and the weather conspire to make you forget about the bleak and startlingly flat landscapes of the rest of the year. For some of you this may be hard to believe, but fortunately I have pictures from our two outings as proof. Our first trip was to County Line Orchard, where we picked apples and pumpkins and enjoyed the unseasonably warm weather for early October. Our second outing was a hike through Indiana Dunes State Park this past Sunday in ridiculously warm late October weather. Being the young and active parents that we are, we chose the second most difficult trail, 3.55 miles (5.71 km) and "moderate difficulty." I don't want to make it seem like we're old and out of shape because we are totally not, but it was a challenge. I would say that carrying a baby and being pulled by a dog through the sandy trails adds a few points to the difficulty rating.

Click here to launch Autumn Adventures.
October 21, 2003
|
Comments (1)
It's On Like It's Never Been
As of this evening around 8 p.m. it became official--we are going to Austria in January to visit our wonderful family and introduce Veronika to all of the aunts, uncles and cousins that she has not yet met. We will be in the air on New Year's Eve, arrive on January 1st, and I will return on the 12th while Dinka and Veronika will stay another week. As is always the case, my head is spinning with all the possibilities of things to do, but specifically I am wondering if a certain sister-in-law with a connection at the Wiener Staatsoper could arrange for us to see La Traviata there on Thursday the 8th. And perhaps my father-in-law could arrange some tennis and a trip to the Markowitsch vineyard to talk about my future plans with Lukas. Or maybe it's best to stay in more and fatten myself on my mother-in-law's wonderful cooking. Or how about all of the above and then some?
October 07, 2003
|
Comments (3)
Borges and Me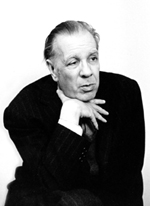 Let me begin by saying that I have read almost none of the canon of important fiction. I just glanced at the list of books I have read that have appeared on various "Best of" lists (over at
Lists of Bests
, of course) with the intention of linking to it but after seeing it again, I am too ashamed. The reasons for this are myriad: spent too much time watching movies in high school, studied computer science in college, too busy reading philosophy for my "humanities" program, cannot read faster than a fifth-grader, and so on. In the year and a half since I graduated, I have taken steps to remedy this but the road through history's important literature is long and arduous. So whenever I make any grand statement regarding the world of fiction, please remember that I am still in the shallow end of the pool.
That being said, I have just finished the most impressive work of fiction I have ever read,
Collected Fictions
, by Jorge Luis Borges. The book was recommended by a dear friend with an Alsatian name (Fontaine) who likes his scotch heavily peated and his maté strong; an endorsement from someone like that is impossible to refuse. As an aside, traversing the list of great books on the recommendations of respected friends and colleagues is quite refreshing. It would be nice if I was always busy with a book that someone else loved.
I was profoundly affected by reading Borges in a way that I have never experienced through fiction. There are a number of reasons for this and I will attempt to spill them out in a logical fashion. To begin, his language is perfect and absolutely beautiful. His style is quiet and elegant, as if each word was hand-picked from a pool of a thousand synonyms for its specific effect, but at the same time he is careful not to let sentences become too dense. The power of his language is in its subtlety. His knowledge and love of languages and their rich history practically oozes from the text. It feels as if he has every word from every language throughout time at his command, always able to pluck the right one to achieve a perfect fit. I have often thought that in order to convey the beauty of his writing, one would need his command of words. By now I'm sure it is painfully obvious to the reader that I do not possess such ability but I will forge ahead anyway.
Second, Borges has an incredibly creative mind. He is obsessed with stretching the reader's ideas about the limitations of the physical world (space, time, etc.) through exploring infinite series, labyrinths and dreams. He did not play with these constants to achieve some kind of mind-bending, alternate reality (in which Keanu Reeves' response would certainly be "whoa"), but to provide a better perspective on the world, himself or life. He possessed the kind of mind that creates the best kind of science fiction (a "fiction of ideas" to quote James Cameron) and yet makes it all seem completely plausible.
And finally, the quality that ties it all together is the intimacy of his writing. Borges manages to be extraordinarily personal while telling the story of a thousand different people in vastly different times and places. He accomplishes this in part by telling nearly every story in the first-person, as if you were sitting in a Buenos Aires cafe listening to the stories of his life. Every narrator, no matter how different from the last, is in some sense a reflection of Borges. As
Dinka
said when I was fumbling with a description of this, it is not unlike a great actor who can wear many masks but always brings a certain essence of their own identity to a part. And as is the case with any effective and introspective work, as the author looks inside, so does the reader. By the end of this collection, I felt as though Borges was an old friend, as if we had grown old together telling stories and sharing our thoughts and emotions.
I am certain that I am writing this more for myself than for you but I am glad that I did it anyway. I needed some closure on this, needed to say
something
about how much this meant to me. Obviously I would recommend it to all of you as well. If you're a trustworthy friend, you can borrow my copy; if not, perhaps a paperback version will arrive in your stocking at Christmastime. But for me, it's on to
Brave New World
, yet another book I'm ashamed to not have read, especially as a supposed geek. It was a recommendation from a friend.
October 06, 2003
|
Comments (1)