Year-End Media Extravaganza
As the year draws to a close, I find myself with a few leftover opinions on some recently consumed media but too much packing to do to churn out a full essay about each of them, so instead I present them together as a hastily assembled media round-up.
Books: After almost a year, I have finally finished the Simone Weil. I had a hard time sticking with it because she covers a wide range of topics with very little focus, which makes sense once you realize that the book is basically a collection of writings from her personal notebooks, perhaps not intended for release in this form. It was a worthwhile read though and I'm especially proud of myself for finishing it. She writes from London in the midst of World War II, after France had fallen and was occupied by the Germans. She tries to find a solution for the alienation/uprootedness of men as workers and citizens but ends up covering everything from the inaccuracy of the annals of history to religious and political hypocrisy. It was poignant to hear her rail against irrational patriotism as the pro-U.S.A. machine was fired up for the war in Iraq. The book never reaches much of a conclusion though and I have a feeling there's better Simone Weil out there (perhaps Waiting for God?).
I'm going to try to sneak in my first William Barrett next, Death of the Soul, in which he wonders "why questions of the soul figure so faintly in the minds of today's technocratic intellectuals" and brings together the whole of modern philosophy to find out. That will be quickly followed by Dead Souls by Nikolai Gogol; I asked for something Russian and I got it. The fact that both books contain the word "soul" is purely coincidental.
Tele: I know I'm a latecomer to this but The Office is absolutely brilliant. If you have not yet seen it, do everything you can to buy, rent or borrow it (the first series/season is just out on DVD); if all else fails, ask me and I will do what I can to help you out. Every character is painfully accurate, most of all the constantly cringe-inducing boss, David Brent. It is dark, mean and probably the most hilarious modern office satire ever done. I am making arrangements as we speak to see the second series whilst in Europe (where it is available on DVD). If it is even half as good as Dean says, we are in for three hours of laughing through the delicious emotional pain.
Music: I've seen Speakerboxxx/The Love Below on too many best-of lists to not say anything: it is not that good of an album. I have been an Outkast fan for a minute (not since Southernplayalistic... but it is in the collection) and I like the fact that they're constantly trying new things, but contrary to much of what has been written about them this year, they are not the only innovators in hip hop, nor are they the best. In fact, this may even be one of the weaker Outkast albums ever released. Each side has its strengths but both are too inconsistent and incomplete to warrant all the praise that has been heaped upon them. As far as lyrical substance is concerned, they are both moving in the right direction but still have a ways to go. Now if they had spent another six months in the studio and chopped it down to one tight full-length album (look through the tracks, it's not so hard to imagine), we might be having a different conversation right now. I also find it strange that most of the hip hop heads I know liked the album less than the rest of the world. With the amount of excellent work being done in hip hop right now, there is no reason for the critics to latch onto Outkast like they have.
December 30, 2003
|
Comments (1)
Souzek Family Christmas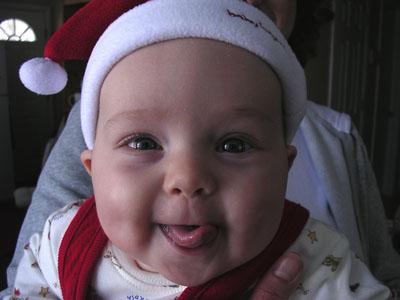 I thought I would take a moment out of my busy holiday schedule to let all of you who couldn't be here to celebrate Christmas with us (read: everyone but Dinka and Veronika) know what the Souzek family Christmas is all about. See the accompanying Veronika pictures here.
December 20 - 21: Christmas with Mom and Dad (now Grandma and Grandpa)

Brave one of the coldest days of the year to find the (perfect) Souzek Family Christmas Tree
Decorate tree while dinner is being prepared. Dad and I obsess over the light configuration on the tree.
Enjoy a wonderful dinner of roast pork and green bean salad, accompanied by an underappreciated pinot noir.
Open Christmas presents, including Veronika's first Green Bay Packers outfits.
Make and consume the season's third batch of egg nog.
Watch Home Alone.

Christmas Eve

Dress Veronika up in her velvet Christmas outfit for Christmas Eve mass. Stand through mass because we arrive later than the seasonal crowds.
Procure ingredients for tomorrow's feast.
Start and finish wrapping presents.

Christmas Day (in progress)
December 31 - January 11/19 (to be continued in Austria)

See

La Traviata

at Wiener Staatsoper.
Overeat, drink fine wine, etc.
Spend time with dearly missed family and friends.
Much, much more.
I hope all of your holiday seasons are just as merry in their own way. Merry Christmas!
December 25, 2003
And to All a Good Nog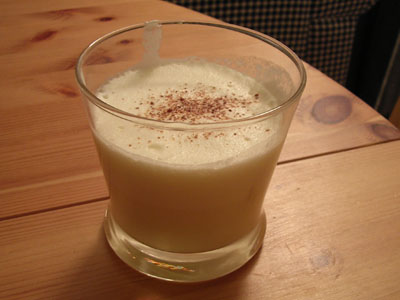 Last year I appointed my homemade eggnog the beverage of the season and although my initial enthusiasm has faded in the meantime, I still submit it as a strong contender for this holiday season. Last year I was hesitant about posting the recipe for two reasons: 1) I wanted it as a recipe of my own, the secret family recipe that I never had; and 2) I was unsure about the implications of reproducing content from a non-free publication. I am happy to announce that this year my holiday cheer has inspired me to ignore my apprehension and provide the recipe to you all in the hopes of spreading a little merriment to the farthest reaches of the Souzek Republic. Besides, in the TV-movie world that is my imagination, holiday cheer wins over even the most coldhearted corporate lawyers that would bring charges against a tiny website for offering its content to non-subscribers. I will cite my sources and hope for the best.
I know that making eggnog from scratch is decidedly more work than opening a store-bought carton but the results are really beyond comparison. This nog is so tasty and light that you will wonder how you ever choked down that thick-as-molasses stuff from the store. Plus this recipe's got liquor in it. I also regret that I can only offer the recipe in the silly U.S. measurements but I am no scientist. Enjoy and feel free to offer your feedback and anecdotes about your success.
Uncle Angelo's Egg Nog
(from Dale DeGroff's book The Craft of the Cocktail, also appearing in the December 2002 GQ)

Serves six (but really makes at least ten glasses)

6 eggs, separated
3/4 cup sugar
1 quart milk
1 pint cream
6 ounces bourbon
6 ounces spiced rum
1 tablespoon grated nutmeg (fresh, if available)


Beat the egg yolks until light in color, gradually adding 1/2 cup of the sugar. Add the milk, cream and liquor to the mix. In a separate bowl, beat the six egg whites with the remaining 1/4 cup of sugar until they peak (you should be able to hold the bowl upside down without anything falling out), then fold into the yolk mixture. Ladle into serving cups and top with the grated nutmeg.
December 16, 2003
Revision
Well, I said I felt like a change so here it is. I had been thinking about redesigning the Souzek Republic since I implemented Dinka's new site ideas and a couple of months later, I finally got around to doing something about it. I wanted to change for a few reasons: the novelty of the old design was wearing off, the challenge of doing a lighter, CSS-based site was calling me, and I didn't feel like I was producing enough content to fill the original concept. So I consolidated the four thin sections (weblog, media, contact, resume) into one page, implemented a few ideas that had been bouncing around for a while and slapped a new face on it. I have never claimed to be a web designer and this page represents that as well as anything. Over the course of designing this page I found out why websites have gone away from the traditional newspaper layout: 1) it's difficult to accomplish in this form, and 2) it doesn't make much sense. I still have mixed feelings about the design but it's growing on me and I think that ultimately the change will be a good thing.
If you would be so patient, I would like to offer some explanation for a few of the new things on the site:
I modeled the top of the page after the New York Times because I enjoy their design, but that was probably obvious.
For users with more advanced browsers, you may notice an Olde English "S" in your address bar or browser tab. That's right, the Souzek Republic now has a favicon.
We are now valid XHTML 1.0 strict and valid CSS2.
You can now access the site at http://souzek.com/lincoln/ instead of /lincoln/blog/. The old way will continue to work (I hope) but there's no reason for those extra five keystrokes now.
The picture to the right will often accompany the latest post but not all posts necessitate a picture so occasionally a photo might stay up for a week or two, depending on how much I like it.
The Briefs section below will feature short one-line links (with their sources to the left) to articles, news items, essays, etc. that I have read and found interesting but don't feel the need to expound on. I anticipate that this will be a regularly updated section of the site and I hope I can present an interesting mix of ideas.
In keeping with my newly found newspaper spirit, I would like to occasionally publish entries from contributing writers. Like a good anesthetic, the contributions should be topical and timely. Everyone is certainly eligible for this, so feel free to email me with any ideas.
And finally, I am launching this new look at this particular time because I am the type of person that, while undertaking a project like this, cannot do or think about anything else until it's completed. For the last week I've been working on these pages from the couch and quite honestly, I need to get this out there so I can get on with my life. I have Christmas shopping to do, a wife and child to spend time with, a Netflix queue waiting on me and a host of other things to undertake. So with that being said, the code might not be as robust as I would like it to be. I've only tested it on Internet Explorer 6 and Mozilla Firebird 0.7 on Windows 2000 and although its standards-compliance should ensure compatibility, you just never know. I don't even know if my colored links look decent because I'm working on a laptop with a half-crippled video card. So report your problems and bear with me.
And now I deserve some sleep.
December 06, 2003
|
Comments (4)