Whew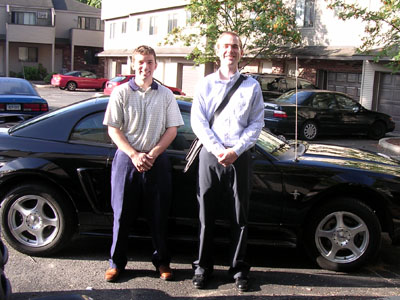 Well, that was a lot more work than I was trying to convince myself it would be. While the Republic presses sat idle for the past four weeks, we, the loving staff behind it, packed everything we owned into boxes, crammed it all into eleven feet of semi trailer, drove out to Connecticut (Pennsylvania is longer than it ought to be), transferred everything to a smaller rental truck, unloaded the boxes in our new garage, unpacked all the necessary stuff (entertainment center first, obviously), got the household up and running and then made a quick jaunt back to Wisconsin by plane. And then, with the dust still fully in flight, I started my new job.
As it turns out, moving takes a lot out of you. The most convincing evidence of this is the current state of a formerly hyperactive little fellow named Digby. Since arriving here two weeks ago, Digby has been a different dog. He stays out of the kennel all day. The barking and jumping has reduced drastically (but not completely, he's still a dog after all). He naps, on his own, in the middle of the day in cozy spots throughout the house. We feel like we've witnessed a miracle. My only explanation is he was so stressed out by the move that he aged ten years in ten days.
Luckily Veronika fared much better. Apart from a few grumpy moments after a long day in the car, she was a dream. However she did decide to start crawling during the moving process, just to keep us on our toes. All in all, we are loving the new area and doing quite well but we anxiously await the return to some kind of routine.
You know what's just around the corner once we're settled in, right? Fall in New England. Be still, my soul.
July 29, 2004
|
Comments (2)
Proximity Matters
Below are the distances in miles and the estimated travel times to the listed cities from our new address in western Connecticut, according to Mapquest.com:
| | | |
| --- | --- | --- |
| City | Miles | Time |
| Hartford, CT | 56.69 | 58 minutes |
| New York, NY | 70.58 | 1 hour, 30 minutes |
| Providence, RI | 150.80 | 2 hours, 29 minutes |
| Boston, MA | 157.51 | 2 hours, 37 minutes |
| Philadelphia, PA | 163.40 | 2 hours, 59 minutes |
| Montpelier, VT | 256.18 | 4 hours, 13 minutes |
| Augusta, ME | 311.26 | 5 hours, 1 minute |
| Washington, DC | 299.48 | 5 hours, 8 minutes |
| Montreal, QC | 349.81 | 5 hours, 30 minutes |
These are all to be considered good things.
July 05, 2004