Geek Rap
As promised, I was at the MF Doom/Brother Ali show this past Wednesday at B.B. King's in the city. It was a great show at a nice, small venue that can be characterized by one word: geeks. The crowd? Mostly male, mostly white, mostly in hoodies, all geeks. True to form, the crowd knew its stuff, with almost everyone chipping in an Ali or Doom rhyme here and there. MF Doom in person? Kind of a geek in that endearing way, with his mask, high beer belly and comically stiff gestures. Before seeing him perform, I had a hard time imagining what a Doom performance would be like because of his complex, scattered style and non-traditional song forms but he had a way of pulling it all together that brought new light to even the most familiar material.
One of the biggest highlights and, simultaneously, biggest disappointments of the night was meeting Brother Ali. Even though he was billed as an opening act, I was almost as excited to see him as I was Doom. He is an artist of incredible power and conviction and I think that "Shadows on the Sun" was one of the best albums of last year. When I saw him come out to sign autographs and meet the fans after the show, I brought over my newly purchased Champion EP for him to sign. The conversation went approximately like this:
(firm handshake)
Me: Hey man, great show.
Brother Ali: Thanks man.
Me: I've been waiting to see you for a long time and this was my first chance. I ... wonder if you could sign this. (handing him the CD)
Ali: Sure, what's your name?
Me: Lincoln. My brother is ... Minneapolis, so that's ... how I know everybody. You guys are all great.
Ali: (hopefully ignoring me, signing "Allahu Akbar")
Me: I just wanted to say ... keep doing it.
Ali: Thanks man, keep listening.
I BLEW IT. Obviously Ali handled the situation gracefully but I was a total drooling mess of a fan. It is not easy to say the things you want to when you're face-to-face with someone you admire so much. I would have been happy if I had gotten in any of the following:
"I think your music's got more heart than anything else out there."
"Rain Water ... right on. Great song, great performance."
"Stay strong brother, we need you." (accompanied by some kind of raised fist or something)
Oh well, I'll have to save all of that for next time. And if these guys keep making music this good, there will definitely be a next time.
November 29, 2004
|
Comments (1)
MM Food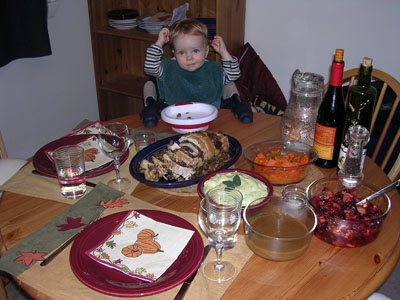 With a little help from the good people at Epicurious, I attempted my first Thanksgiving yesterday. If a cook is to be judged on the reaction of his guests and total food consumption, I think the meal was a success. Dinka and I ate a lot last night and finished up the leftovers at lunch and dinner today. However Veronika wouldn't touch any of it, even though turkey is one of her favorite foods. I'm not going to lie, that really hurt, but I think the food speaks for itself. I was only able to prepare about half of the courses (I'm only human after all), so the meal consisted of the following:
At six hours of total preparation time, I don't think I did too badly. And after a well-deserved glass of plum brandy, I wasn't even that stressed out. If that's not what Thanksgiving's all about, then I don't know what is.
November 26, 2004
|
Comments (1)
Lewis, Greene and Co.
I have just finished reading my first two C.S. Lewis books: The Screwtape Letters and The Problem of Pain. His writing was recommended for its wit and clarity and it did not disappoint on either counts. He explores his topics from a kind of generic Christian perspective, which works very well in that it allows him to stick to the subject and doctrine at hand (no temptation to universalism) without seeming exclusive in any sense (denominations are never mentioned). Indeed there is no reason to be more specific; after reading these books, one realizes that the most important questions often have nothing to do with the details we love to argue over.
A couple of suggestions then, if I may. I believe that The Screwtape Letters should be read as a book of short meditations, perhaps one per night before bed. His task is to wittily point out human weaknesses from the perspective of a tempter (an assistant to "Our Father Below") and he accomplishes it so well that if you read too many letters at once, you may be overwhelmed by the incisiveness and left a little despondent. Human weaknesses are so great that having too many enumerated in one sitting feels more like an assault than a lesson. I wish I had taken the time to reflect on each instead of plowing through half the book in one night.
My only complaint with The Problem of Pain is that he did not directly address the question that led me to pick up the book, the question posed by Ivan Karamazov--how can the suffering of innocent children be explained? I suppose he did speak to this question indirectly but I was hoping that he would take a chapter to address it head on since it is a rather famous problem. It certainly did not slip through the cracks, it just wasn't essential to the focus of the book. Other than this problem of expectations, I was very impressed with the clarity of his explanation and encouraged by his words.
My next reading comes from an author who I have never intended to read but who has been recommended from every angle. I finally gave in and decided to start reading Graham Greene when The Power and the Glory arrived in the mail (without my asking for it). I don't know much of twentieth century fiction or of the author so I have no idea what to expect. Perhaps this is for the best.
But the real question is, will I ever get to the Kierkegaard? Yes, right after this.
November 14, 2004
|
Comments (1)
Town & Country
Autumn arrived late this year and the photo album followed suit. Here at last is our photographic tour of fall in New England, divided conveniently into the urban and rural settings we visited. There really is nothing like fall, I love it more and more every year. It is so inspiring. More on the fruit of that inspiration later.
One final note: once you're inside one part of the photo album, click on the ampersand at the top if you'd like to return to the front. I know that's not obvious, sorry.
November 12, 2004
Disbelief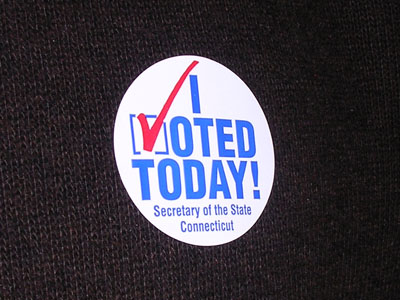 Today is a day of many emotions, all of which have left me speechless. Everything else aside, I don't know what to say to a country that has gone through what we have over the past four years and votes to continue along the same path. More of the same for the next four years? Yes, please. Of course even that is something of a best case scenario, assuming that things won't get worse. It is difficult not to lose faith in the American people in the wake of such a decision, to imagine that things will be different in the future. How much worse does it have to get before a majority can agree that we need a change?
I try to look at the bright side. Maybe some new Supreme Court justices will be appointed that will re-examine the law's definition of life and its parameters. Maybe this will actually be good for the Democratic Party in the long run, the impetus needed to "shed their inhibitions about talking about faith" and realign with the working-class Americans that their policies attempt to support. Maybe. But right now that light at the end of the tunnel is looking pretty dim.
November 03, 2004
Home Life
This past weekend was one of the best in recent memory and it all happened completely by accident, without an ounce of my planning or intervention. It was one of those rare weekends that completely fills you up and sends you rocketing into the week without a concern for the work ahead. So what was so magical about it? What did we do that was so perfect? Not much at all, actually. It consisted entirely of elements that should be quite ordinary but are far too infrequent for my taste: lots of play-time with Veronika, some quiet time with Dinka, a little manual labor around the house, a couple of good movies and a tasty recipe.
I often fall into the trap of being too task-oriented and focused on accomplishments, feeling the need to check something off of one of my numerous checklists even (especially?) in my time off. Yet whenever I spend a big block of time at home, I realize how skewed my perspective has become. Two days spent around the house with my family can be better than any urban or rural adventure. I know it's better for me.
That's the kind of stuff that makes me realize why I go to work every day. It's also what makes it so hard to leave every morning.
November 01, 2004