A Poor Review of a Great Year
I have tried to start a proper year-in-review post several times but it just doesn't seem to be happening. This is partially due to the first holiday season in which I have had to fight to reclaim some time, but mostly because you can only say "life just keeps on getting better" so many times before it starts to sound disingenuous. It's true though. Our first full year with Veronika has been nothing short of magical. We left the friendly confines of the Midwest for the big (and simultaneously small) Northeast and even with the limited time and money we've had to explore it, it's been everything we were hoping for. I read more (ten books in one year is a new record for me, sadly), I ate better, I spent more time with Veronika, I'm healthier... blah, blah, blah, right? No one wants to hear that stuff.
My perception of the passage of time is always changing but this year it's been especially muddled by the rate at which Veronika grows and changes. I look at her pictures from the past year (one year ago here) and it doesn't seem possible that it all could've taken place in one year. So while they're watching the ball drop in Times Square, an hour and change away, I'll be looking at Veronika's pictures from last year (start here to follow along) with a melting heart.
Here's hoping to more of the same for next year.
December 31, 2004
Job Done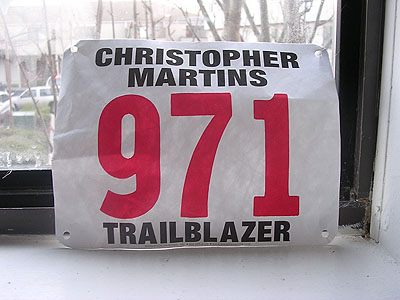 I am happy to report that not only did I finish my first 5k last Saturday, I did it two minutes faster than I've ever run that distance before. Need proof? You can check the number on my bib (pictured above) against the online race results. That page actually reports my time incorrectly--my total time was 26:37 but it took us a minute to get across the starting line so my net time was 25:37 (I timed it myself).
If you would've told me a year ago that I would be driving an hour and paying someone to let me run three miles outside in December, I would've had a good laugh, but the race was actually a lot of fun. There were over a thousand people running, each donating a toy for charity, and the weather was great for December. The course wound through downtown New Haven and was as flat as can be, which I was very thankful for. With so many people running, I was almost always passing someone and that provided a huge boost of confidence. If it wasn't for a friend keeping me on a good pace, I probably would have started too fast and ended up with a worse time, just because passing other runners feels so good.
I have not hit the treadmill since race day but I assure you that this is only due to the ridiculous busyness of December thus far. I have every intention of continuing to run, compete and improve my times. The January 2nd 5k I was hoping to run has been cancelled but I have my eye on a couple in February. Even if this is the longest race I can ever run, I will still feel great about just being out there and doing something for my health. If I have to set my sights on a marathon to keep me motivated, then so be it.
December 18, 2004
Changing Gears
Even though Connecticut is refusing to accept the change of seasons and get some snow already, things are changing around the Souzek household. Out of nowhere, I have become a runner. Caring about my cardiovascular health yet being unwilling to spend more than the minimum amount of time away from Veronika has led me to pursue an activity that I don't particularly enjoy. The joys of accomplishment and progress are starting to make it bearable but given a choice, running would not be high on my list of ways to exercise. So as a way to keep myself motivated, I am invoking the spirit of competition. Specifically I am preparing myself for my first 5k, the 20th Annual Christopher Martin's 5K Christmas Run for Children, taking place this Sunday in New Haven. Six weeks ago I ran a mile and change on a treadmill in 12:00 minutes and thought that was enough. Two days ago I ran just over three miles through Westchester horse farm country in 45-degree weather in 27:29. And guess what? There's another 5k the next weekend and one on January 2nd too. I know, I've gone a little nuts about it but that's how I do things, all or nothing. When I'm in the middle of a run, I never think I'm going to make it. When I'm done and have regained my breath, I think anything is possible (even the NYC marathon!). Only time will tell how I will measure up against my lofty expectations.
Since I am speeding up, someone else must be slowing down. Enter Digby. I've mentioned his transformation before but now you can see for yourself just how drastic things have become in his new photo album: Sleepy Dog.
And the universe remains in balance.
December 06, 2004
|
Comments (1)