Newport, Take One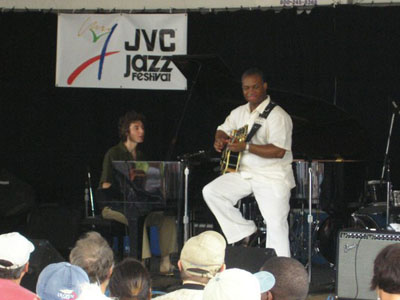 A couple of weeks ago I packed up the van and headed a couple of hours east to scenic Newport, RI for the last day of the Newport Jazz Festival. Although I have been playing and listening to jazz for some time, I'm not foolish enough to think that my experience of it is by any means definitive. But in any all-day festival like this, there are always a few artists that I really connect with and others that I just don't understand. Here are the ones at Newport that fell into those categories:
Those that impressed mightily

Benny Green and Russell Malone : These guys put on about the best show in jazz right now. The agile give and take, the improvisational virtuoso and the pure joy that these two exude on stage make it impossible to look away (or stop listening). That and they know how to swing, reasonably hard. I missed the first few songs due to Newport traffic but their set was still my favorite of the day. If you have a chance to see them, I would highly recommend it.
Christian McBride : This was my first time seeing him on stage, as one third of the Chick Corea trio and part of Roy Haynes's birthday celebration, and he was impressive in each moment. I have a hard time defining what I like about some bassists but I know it when I hear it. Christian was not only keeping up but pushing the tempo with all the masters and even produced a few awe-inspiring solos. I need to revisit his extensive catalog and start learning.
Roy Haynes : I saw Roy and his quintet at the Jazz Showcase in Chicago in 1999 when he was a youthful 74. He walked in right in front of us, dressed head to toe in an off-white ensemble. I didn't recognize him and it wasn't until he walked up on stage to perform that I realized that I should have been drooling over him instead of casually opening the door for him. He put on an energetic show and kept the kids he was playing with on their toes. Six years later at his 80th birthday celebration at Newport, he was no less sprightly or fashionable. This man looks and moves like he's 40, tops. His performance was an all-star celebration and he was the driving force behind it all.

Those that continue to elude me

Fusion : I just can't get into it, even when Miles did it.
Joshua Redman : I know he's

the

young sax, on everyone's album and oh, those eyes! But I just can't follow his ideas. He plays well--although he had a seriously difficult time keeping up with Roy, Christian and Chick Corea--but I don't find him particularly compelling. His original compositions with the Elastic Band didn't impress me either.
Chick Corea : I really had my hopes up because Newport was my first time seeing him live and even hearing him for an extended amount of time. His trio came on first and didn't seem comfortable together--lots of reading music and obvious cues. His playing seem to wander and abruptly come and go, like he was never fully engaged in a song or solo. At first I thought he was just starting slowly but after a while I realized that this was his style, for the day anyway. I'll have to go back to some of his earlier work and see if it strikes me the same way.
All in all it was a great day. Newport is a beautiful city, the main stage was about a hundred meters off the ocean harbor at Fort Adams State Park and the music was impressive and refreshing. I look forward to spending a little more time in Newport in Augusts to come.
August 30, 2005
Summer Holiday Pictorial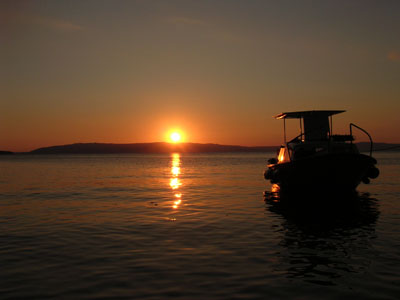 As my fond memories of the recently passed holiday are cruelly pushed aside by my return to the working world, I realize that it would have been better to write something about it immediately upon returning. But the truth is that I've been too busy. As it turns out, keeping a household going on your own is an incredible amount of work. Or perhaps I've just been keeping myself busy so I wouldn't be struck down by loneliness (Dinka and Veronika stayed on an additional two weeks and will return on Monday).
The vacation was terrific. At just over two weeks, it was still too short for my taste, especially with the travel days to and from Croatia. It was full enough that I did everything that I wanted to but not so full that I felt like it was work, a good balance. I enjoyed my time with family, ate without abandon, drank my fair share of various brandies and wines, walked through vineyard after vineyard, celebrated Veronika's second birthday, caught up on all the reading and movie-watching that my working life doesn't allow, and floated in the salty Adriatic, gazing up at the sky, until my head felt all swimmy. I only wish Dinka would have felt a little better so she could've enjoyed everything as much as I did, but from the emails I'm getting lately, it doesn't sound like she's having such a bad time. Veronika is having a blast, absorbing all the German she can and leading Baka and Deda around all day long. She liked the beach too but I think the whole experience was a bit overwhelming for her, because by the end of the week she was pretty cranky and exhausted.
Anyway, on top of all my other household chores, I took a lot more pictures than I had on previous trips and selecting, resizing and presenting them has been an arduous task. Since there are so many, I decided to organize them by subject, which I think works despite the loss of some chronological continuity. Enjoy.
UPDATE: In case you're wondering where all the Veronika pictures are, they will be posted on her page, starting here.
August 16, 2005
|
Comments (3)
The Real Reason We've Been Smiling a Lot Lately
(much fanfare)
Yes, you read that right, Dinka and I are very excited to announce that we are expecting our second child! Notice that I used the exclamation point while Dinka did not, mainly because I'm not the one with morning sickness. More to come soon (as well as lots of vacation pictures and details), but for now, just join in the happiness of this moment with us. News doesn't get much better than this.
August 11, 2005
|
Comments (2)