Electric Circus
Bringing It All Back Home — Hearing the electric guitar and full band storm in for the first time in Dylan history on Subterranean Homesick Blues was exhilarating. I'd like to think that if I had been a Dylan fan in the '60s I would have been open-minded enough to make the electric transition, but who knows, I'm such an old codger already at twenty-five. Musically this album stradles the fence between his acoustic and electric sides. The electric songs are rowdy and a lot of fun but one listen to Highway 61 Revisited revealed the inexperience of these first efforts. I wonder if it's only a coincidence that his sound grew more complex (as more as instrumentation is concerned) as his thought became more nuanced, less "black and white."
If Another Side of Bob Dylan was an attempt to assert his individuality in the face of the "voice of a generation" mold that was foisted on him after the first few albums, he takes that idea a step further with this album. He turns his attention back in the general direction of the political and social realm but speaks as an outsider critic looking in instead of identifying himself with any movement. The commentary seems to revolve around the absurd authority of American society, arbitrarily hostile (a remnant of McCarthyism?) and not faithful to its advertised roots, whether in Christianity or the Constitution.
It's also important to mark a milestone here—the first album on which I don't fully understand what Dylan is saying all the time, not that it bothers me much. I think he's being deliberately evasive and obscure in places and to good effect. Some of the lyrics are so dense that I had to read them apart from the music to digest them at my own pace. That was certainly the case with It's Alright, Ma (I'm Only Bleeding) and the extra effort was more than worth it, that song is a monster. I'm not going to pretend that I have the chops to tackle it, but for me it's a kind of declaration of independence, an acceptance of being ultimately alone in the world. He takes swipes at all the institutions, "false gods", etc., that purport to provide comfort and in the end accepts that it's better to face the world honestly and alone than to delude yourself with built-up worldly authority. Understanding this song helped me to make the transition to the next album, which is:
Highway 61 Revisited — I've only been listening to this album for a week so I'm taking a chance by writing on it while the ideas are fresh in my head. Musically, I think he's really starting to rock here. The sound is less electric and the band plays with a number of styles, but the songs course with more raw energy and momentum. Tombstone Blues is like a runaway horse carriage, everyone barely holding it together, but it works. It Takes a Lot to Laugh, It Takes a Train to Cry is a locked-in shuffle with the drummer hanging behind the beat just enough to make it swing.
But back to my segue from "It's Alright, Ma." This album is focused almost entirely on being forced to deal with being alone in the world, with "no direction home" as it were. Whether because of economic circumstance (Miss Lonely in Like a Rolling Stone), social change (Mister Jones in Ballad of a Thin Man), divine intervention (Abraham in Highway 61 Revisited), genius (Einstein in Desolation Row), or dramatic whim (everyone else in Desolation Row), most of his characters have been cast out from society and left with nothing to console them. I think Dylan must see some redemptive value in this imposed isolation, perhaps from his similar experience with celebrity, otherwise his snarling is just cruel. Everything about this reminds me of Kierkegaard—you can't get out of despair without first sinking into it and accepting it for what it is. With all social pretension stripped away, these characters are forced to stand naked (like "even the president of the United States" must sometimes? I'm on a roll!) in front of God, as individuals. That's the only relation that really matters in the end, despite all our attempts to otherwise complicate things. Being forced to accept that is probably the best thing for anyone, despite the resulting despair and desolation.
In other news, signs of Dylan-weariness have begun to spring up in the Souzek household:
Me: Oh man, I forgot the Christmas CDs in the car when we went to cut down the tree.
Dinka: Really? Which ones?
Me: One of the Ella Fitzgerald albums... oh, and you don't care about the other one, you don't like it (referring to the funky Christmas Cookin' by Jimmy Smith, essential if you think the one thing that Christmas needs is more Hammond B3).
Dinka: What, did Bob Dylan release a Christmas album?
Me: (hangs head in shame)

December 22, 2005
Winter, Abridged Edition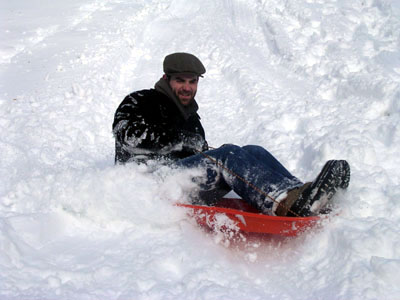 It's weekends like the one just past that help me get through weeks as busy as the last three have been and the next three are sure to be. The serendipitous intersection of the year's first real snow, beautiful weather, free time and proximity to Christmas made for a wonderful two days, packed with more than we usually manage to do in a month: playing in the snow, visiting Santa, going out to eat, putting up Christmas lights, making my now-famous egg nog, singing Christmas songs around the piano, etc. One of my favorite hours was the one spent outside on Saturday afternoon. It was one of those rare winter days where there's plenty of fresh snow on the ground, the sun is shining and it's warm enough to play but not so warm that the snow starts to get slushy and wet. There are few things in the world that take me back to the pure, unadultered joy of childhood like sledding. I can't wait until Veronika and her little brother start enjoying it as much as I do so I can see their faces light up like that.
Until then, feel free to enjoy some pictures of children in their mid-twenties to very early-thirties playing like they are eight again.
December 13, 2005