One Of Us Must Post (Sooner or Later)
On each of the last six Fridays, I've vowed to sit down over the weekend and write something about Blonde on Blonde, at first out of inspiration, then out of guilt that the inspiration was passing and eventually just so I could move on. I'm glad the first couple of weekends didn't afford me much time, though, because in time I wouldn't have been satisfied with what I had written. After the powerhouse of Highway 61 Revisited, all I could notice about this album, at first, was the lack of a unifying theme, the unevenness of the sound (across songs), and the palpable weariness of Dylan's voice (expressed perfectly in the picture on the back cover of the album). I was annoyed by the pop sound of "I Want You" and the vocals, increasingly free of the limitations of pitch and time, grated on me. Thankfully, I didn't have the opportunity to stop listening.
What I discovered with time was that most of my initial impressions were right, they just weren't telling the whole story. Given the amount of material (rock's first double album) and the subject matter (love, longing, loss, etc.), it began to feel right that the album was a little messy from a thematic and sonic perspective. Once I let go of my hangups about what an "album" should be and listened to the songs individually (or least more loosely), I was able to appreciate the brilliance of the album. I still prefer Highway 61 as an album but if you want to get into subtleties of that, you can buy me a drink some time when you have a night free and ask.
There are too many classics here to mention, some of which surpassed their reputation for me ("Visions of Johanna") and others that disappointed ("I Want You"). I read once that Dylan said that "the closest I ever got to the sound I hear in my mind was on individual bands in the 'Blonde on Blonde' album. It's that thin, that wild mercury sound. It's metallic and bright gold, with whatever that conjures up." Since I thought the sound of this album was kind of disparate, I'll assume he's referring to tracks like "One of Us Must Know (Sooner or Later)" and "Stuck Inside of Mobile With the Memphis Blues Again" in that quote, which I think are representative and seem to lie somewhere in the center. They also happen to be a couple of my favorite tracks. And just because I've never heard anyone speak of it, I have to ask—why doesn't anyone like "Temporary Like Achilles"? It's such a smooth and seductive blues that you'd love to sympathize with the narrator, but then the questionable motives kind of turn the song on its head (reminiscent of Brother Ali's "Prince Charming" in that respect).
I will confess that I took an occasional detour through Live 1966 while listening to Blonde on Blonde, since it seemed chronologically appropriate. I don't have much to say about it except if a movie is ever made about my life after I die, I would really appreciate it if the live version of Just Like Tom Thumb's Blues from this album was included, especially during the closing credits. It is five minutes and thirty-five seconds of pure rock transcendence.
February 20, 2006
Rest For The Weary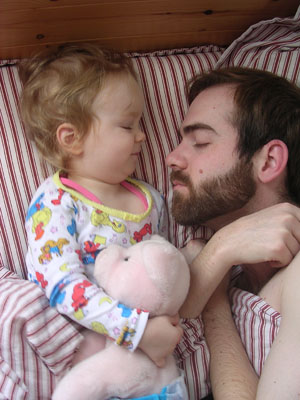 Let me briefly describe the circumstances that recently led to the best afternoon nap ever. Last weekend Veronika didn't nap on Friday or Saturday—on Friday because she didn't feel like it and on Saturday because nap time fell in the middle of an exhausting trip to IKEA—so she was due for a good one on Sunday. I put her down on time (1:30) and she responded by promply pooping her diaper. After a quick change, I put her back down and she talked to herself for a while before finally falling asleep. I was expecting her to sleep for two-plus hours but barely an hour later she woke up crying. I could tell that she wasn't completely awake so I brought her to the big bed and tried to coax her into lying down with me, which never works. To my surprise, she curled up on my chest and fell asleep, so Digby and I followed suit and there we remained for the next hour. When she woke up, she was all smiles and hugs.
I haven't had a nap like that with Veronika since before we left the hospital (pictured here) and it was everything I remembered it to be. She has fallen asleep in my arms plenty of times but she usually didn't let me do the same. Come to think of it, it may be one of the last opportunities I have to nap with her before she gets too big or other, littler ones are vying for my attention.
Lately when I'm not sleeping, I'm preparing for the baby in one form or another. I don't remember having so much preparation work to do before Veronika was born, but perhaps that's because we were childless then and must have had tons of free time. Good thing I got that nap in, I should have more than enough energy for the final month now.
February 09, 2006