In the Nick of Thyme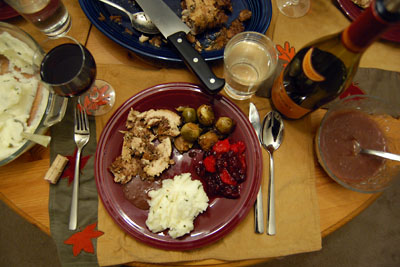 Today is Thanksgiving and not a moment too soon. Despite not having many breaks lately and turning this weekend into a potential experiment in sleep deprivation by trying to get Ivan to sleep through the night, we still managed to pull off a nice holiday dinner. This year we have Baka (my mother-in-law) to thank—for letting Veronika style her hair, walking Ivan around the house all day while we scurried around the kitchen, and finishing the potatoes while I tried to talk on the phone (I have lost the ability), take the kids out of bed after their naps, and take a barking Digby out in the rain. In the end, we succeeded and managed to put the following menu on the table.
Fig and Stilton-Stuffed Turkey Breast with Port Sauce Creamy Mashed Potatoes with Goat Cheese and Fresh Sage Brussels Sprouts with Pancetta and Balsamic Vinegar Cranberry Orange Relish Mark West Pinot Noir
Even when you don't have a huge family over for dinner, when you have to do all the work yourself, and when you put on a sweater for no one but yourself, taking the time to celebrate with a special holiday dinner still means something. Even when the turkey turns out drier than last year and the kids are watching Baby Einstein while you're giving thanks that they are in your life. This year I am thankful for Graham's Six Grapes port, my beautiful wife sitting next to me, the two smiling faces and runny noses that depend on me to take care of them, and right now, the opportunity to write it down.
(I apologize for the dreadful title pun but while I was stripping the prescribed acre's worth of thyme sprigs of their leaves this afternoon, I couldn't help but to come up with a few.)
November 23, 2006