Can't Keep Runnin' Away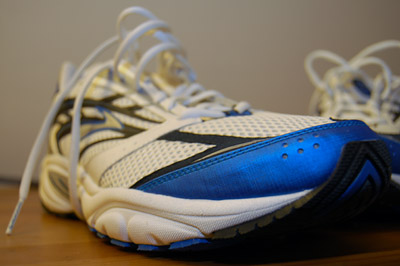 After taking up running over two years ago, taking six months off after developing shin splints and failing to find an effective treatment, I'm back at it again, ramping up slowly and stretching like there's no tomorrow. My personal MySQL database I've been maintaining for tracking my training came in very handy a few weeks ago; I added up the miles I had put on my shoes and came up with a surprising number— 400. Sure, some people put that on in a couple of months but for me, running the equivalent of home to Buffalo, even over eighteen months, is a big deal. So I needed some new shoes and took the opportunity to check out Jack Rabbit Sports (as recommended by Meg). While the salesperson that attended to me was less than thrilled to hear my complete medical history (I had to say what I had to say), the treadmill videotaping was helpful and he was very obliging about letting me try out every shoe in the shop. It turns out that the stability shoes and the arch supports I had were completely unnecessary but I went with another pair of Brooks, the Glycerin 5, and I've been doing fine with them since. On I run, fingers crossed.
Over a year ago I won an iPod shuffle in a raffle but never once used it on a run. When I run outside, I'm with Digby on occasionally busy streets and I feel like I need all my senses to stay alert and out of harm's way. When I'm on the treadmill, I've been going through the old Seinfeld DVDs from Christmases past. On Presidents Day, I had the day off and decided to run at the local YMCA but it didn't occur to me to use the Shuffle until 8 a.m., giving me forty-five minutes to put together my first running playlist. This is what I came up with:
James Brown : I Got the Feelin'
Brother Ali : Blah Blah Blah
James Brown : Get Up (I Feel Like Being A) Sex Machine
De La Soul (feat. Flava Flav) : Come On Down
James Brown : Say It Loud - I'm Black and I'm Proud
De La Soul (feat. MF Doom) : Rock Co.Kane Flow
James Brown : Get Up Offa That Thing
Jurassic 5 : Quality Control
Brother Ali : B****slap!
Jurassic 5 : Jurass Finish First
Now I understand why every runner in the world always has an iPod in the armband. Running with a soundtrack is more energizing than I could have imagined, I felt like I was flying. I don't know if it's because I've been mired in mid-80's Dylan lately or what, but hearing these old favorites was like a shot of adrenaline, I could barely stay on the treadmill. It must have been an entertaining scene for my fellow Y members, who were perplexed when James Brown kicking it to the bridge sent me into a physics-defying sideways foot roll complete with air guitar-mimed bass line, frightened when I shouted "it's a stick up!" at the end of MF Doom's second verse on "Rock Co.Kane Flow" and finally concerned for my well-being when Ant kicked the beat that he had just kicked a little while ago for Brother Ali and I shot off the treadmill and through the glass mirror in front of it. If I would've had enough time to add another handful of Rhymesayers tracks, I think I could've run another half-hour.
Which brings me to my next point—how about that playlist on short notice? I felt so good about it that the whole way home I was thinking of new sequences, pulling tracks from deep in my memory for possible inclusion on future lists. All those years of college radio came rushing back to me and I realized that this could became a bit of an obsession if I nurtured it. If I ever run that marathon my five-hour playlist is going to be epic, studied by future generations and likely misappropriated to energize people for less harmless high-energy activities. But I am only the creator, answering the call of the art, and right now the Pharcyde track that inspired the title of this entry is calling me to start on another playlist.
February 23, 2007
|
Comments (1)