The Most Amazing Birthday Present Ever
At my recent birthday party, Dinka gave me a birthday card that said, among other things, that she was sorry but my gift wouldn't arrive until February 18th. I thought that she had probably ordered something that was out of stock or something, made some kind of joke about how having things custom made in Italy took time, and didn't think much more of it. After all, I was already floating from the kids' cards and the sugar rush of an indecently sized slice of cake.
On the evening of February 18th, I walked in the door after work and saw my mom sitting at the dinner table. Cool, a surprise visit, I thought. Before I could ask many questions, Dinka handed me this card: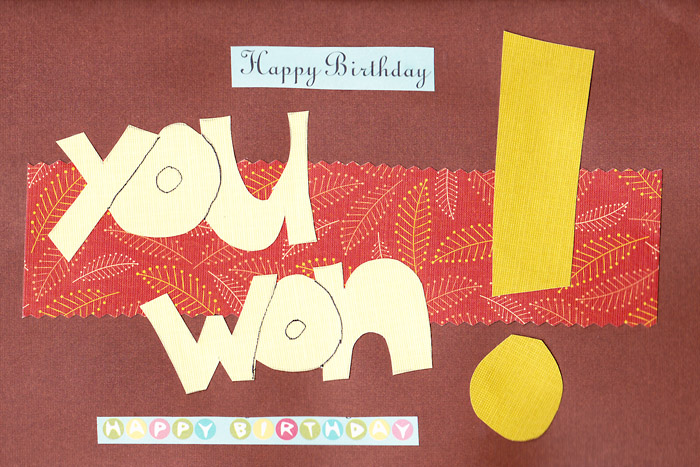 Inside, it explained that I had "won" a weekend in New York City with her, including:
Two nights at a Park Avenue hotel
Dinner at Gramercy Taven
An opportunity to go shopping for a suit, a task I have been reluctant to dedicate money to for years, on Madison Avenue
In order to make this all possible, she had also coordinated the following things:
A five-day visit from Grandma that included a weekend of babysitting
Permission for me to leave work early on Friday, by contacting my manager at work
A substitute accompanist for Mass on Sunday, by contacting the choir director at church
A contribution toward the purchase of the suit as my birthday present from Baka
Gulp. I was completely astounded and speechless. What can you say about a surprise like that? My mind boggled at all the planning and preparation that must have gone into it, all the details that seemed straight out of a dream, and the fact that all of it was lying directly in front of me, less than twenty-four hours away. But there wasn't much time to be flabbergasted—I had to pack.
So the next day, we went. I still can't believe that it actually happened. We ate one of the best meals of our lives at Gramercy Tavern, including one final surprise—a dram of Lagavulin 16-year (the whisky that's been on top of my to-taste list for months) as a digestif, a birthday present from my brother and sister-in-law. We stayed at a great hotel with a view of Park Avenue. I bought the perfect navy suit from Brooks Brothers, clothier of Abraham Lincoln, the Lincoln Center Jazz Orchestra, Mad Men and Stephen Colbert. We went to the top of the Empire State Building at night. We went to Mass at St. Patrick's Cathedral. We ate enormous pastrami and corned beef sandwiches at Katz's Deli. We spent more time with each other and without the children than we have since Veronika was born. It was the perfect weekend and we were floating on air. The only thing more amazing than this present is the wife that gave it and I will be reminding her of that for years to come.
Three weeks later, I am glad that I took some pictures to remind me that it wasn't just a dream. Click the link below to see them:
March 13, 2010
|
Comments (1)